The Call Graph view displays a hierarchical performance graph, calculated from the data collected from the application being monitored. Each level of the graph can be expanded and collapsed as desired. The graph can be filtered to remove nodes that contribute less than a specified threshold value.
This view is similar to the Call Tree, except that the Call Graph is the minimal set of all functions shown in the Call Tree.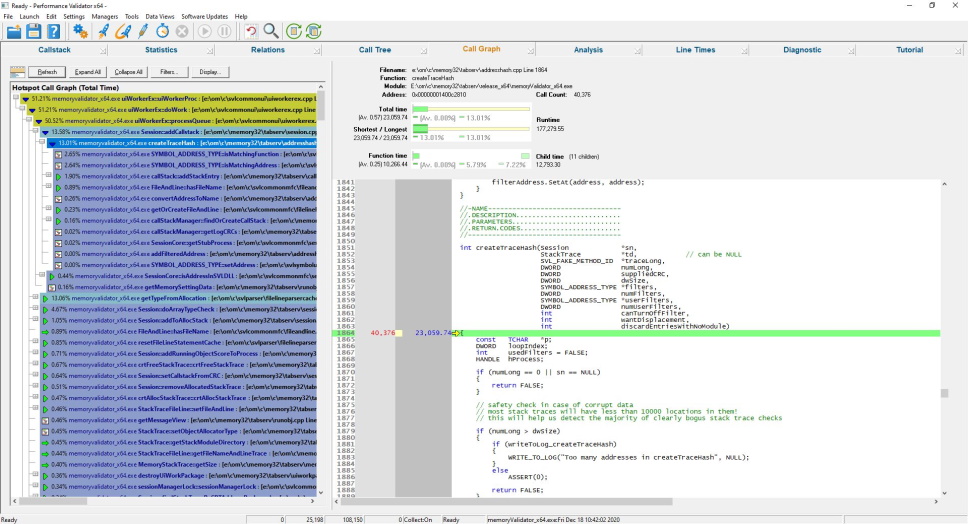 The colour coding allows at a glance viewing of the performance contribution of each function call in the performance graph. The controls at the bottom of the display allow the results to be sorted and to be viewed graphically.
When a hotspot node is selected in the left hand pane, the source code for the function represented by the hotspot node is displayed in the right hand pane, with related statistics displayed above the source code, so you can at-a-glance see which functions contribute different performance metrics (most visited, most time consuming, least time consuming, etc).
A popup menu (right mouse button) allows each file to be edited in a syntax coloured editor that highlights the specific function. The popup menu also provides options for controlling the expand and collapse state of the tree control.