The Analysis view allows the collected performance data to be queried using a variety of different queries.
The results of each query can be restricted to a small subset of the results if required, allowing "show 10 most timing consuming functions" type of query.
The results are shown as a colour coded performance hotspot graph that can be expanded and collapsed as desired. The colour coding is user defined.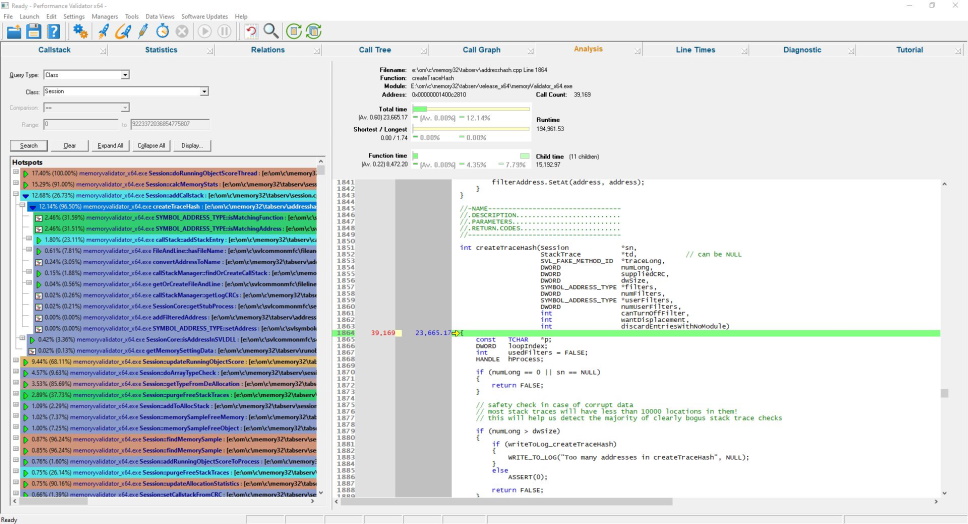 The picture above shows the Analysis view expanded to show method calls in class Session.
The standard queries are:
Class
Function
File name
Module name
Address
Number of children
Average Time
Average Time %
Total Time
Total Time %
Function Time
Function Time %
Child Functions Time
Child Functions Time %
Longest Time
Longest Time %
Shortest Time
Shortest Time %
Visit Count
Visit Count %
Most Visited Hotspots
Most Time Consuming Hotspots
Number of descendants
Number of ascendants
Distance to root
Distance to leaf
These queries can be combined with a variety of comparisons and range specifications to fine tune the search. The range specifications are user defined.
The comparisons are:
<
<=
==
>=
>
!=
Inside range
Outside range
When a hotspot node is selected in the left hand pane, the source code for the function represented by the hotspot node is displayed in the right hand pane, with related statistics displayed above the source code, so you can at-a-glance see which functions contribute different performance metrics (most visited, most time consuming, least time consuming, etc).
A popup menu (right mouse button) allows each file to be edited in a syntax coloured editor that highlights the specific function. The popup menu also provides options for controlling the expand and collapse state of the tree control.