The Scan Directories dialog controls the scanning and selection of minidumps for display on the user interface.
You can scan the entire machine, whole disk drives, or specify directories to scan.
In addition you can also specify filters that will select specific types of minidumps to be displayed.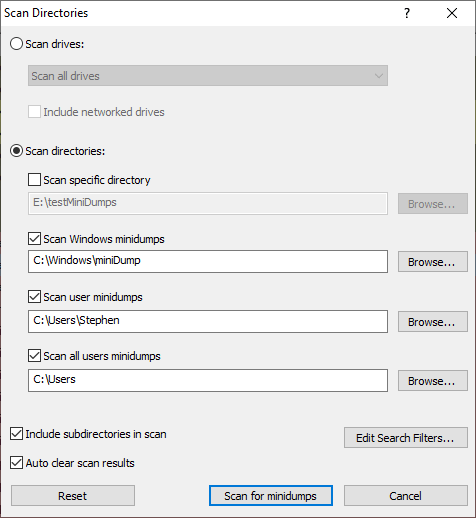 Scanning drives
When Scan drives is selected you can specify individual drives or the whole machine.
If you wish to include networked drives there is an option for that.

Scanning directories
When scanning directories there are three default options and one custom option, each of which can be edited and enabled/disabled.
The default options are the Windows minidumps directory, the current user's minidumps, and all users minidumps. The custom option is any directory of your choice.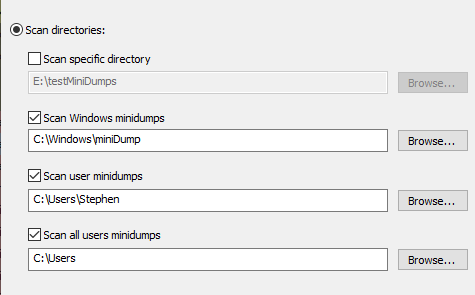 Options
Whether you are scanning drives or directories there are some options that affect both types of scan.

You may only want to scan the root of each drive or just the directories specified. Or you may want to scan all the subdirectories of each drive or directory (this is the default option).
The results on the user interface can be appended to, or cleared prior to the new scan. The default is to clear the user interface before each scan.
Choosing to edit the search filters will open the Search Filters dialog.
All search options can be reset via the Reset button.
Any scan that is started can be stopped from the File menu.