The Process Chooser allows you to choose which process you will monitor for Page Faults.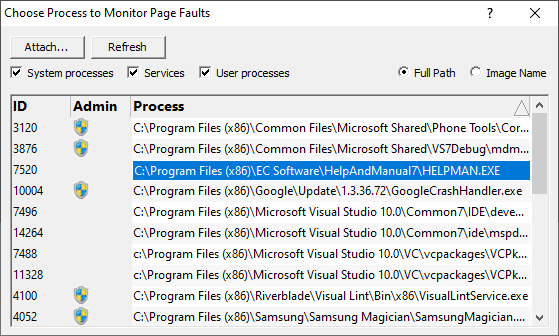 •System processes / Services / User processes

show either of system or services or user processes in the list, or both
•Full path

shows the full path to the process executable in the list

•Image Name

shows the short program name without path
•Refresh

update the list with currently running processes
•Attach

start monitoring page faults in the selected process
Administrator Mode
It is not possible to monitor some applications for page faults unless Page Fault Monitor is running in Administrator Mode.
Applications needing Administrator Mode to be monitored as denoted by a shield icon displayed in the Admin column of the grid.
If you try to monitor an application needing Administrator Mode you will be prompted to relaunch Page Fault Monitor in Administrator Mode.